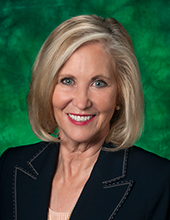 Dr. Jana Hawley
Dean and Professor
March 23, 2020
I would like to take a moment to give an update to everyone as we transition to work and learn at home.
Those of us involved with university communities do the work we do because we love watching our students gather, laugh, and learn. Today our campus is quiet. As you move learning and social engagement to the virtual world, very real feelings of loneliness and isolation can occur. Make sure you virtually connect with friends and family, your professors, your fellow workers at your jobs, and each other. Create coffee time with each other. Personally, I have loved connecting more with my grandkids over Facetime the last few days.
Last week, academic administrators met daily to discuss Phase One: Our Continuity Plans. Over the weekend, campus academic administrators continued our zoom meetings to discuss Phase Two: Campus Closure to Essential Activities Only. You might wonder— what does that mean for UNT students, staff and faculty?
Starting today, March 23, 2020:
All face to face classes will be moved to online delivery
Willis Library will remain open for computer checkouts. Please check their website for hours.
Housing, dining, student health and wellness, food pantry will continue for those students who need it. Some of these services are delivered virtually. Please check healthalerts.unt.edu for updates.
When possible, we will have IT assistants sitting in classes to make sure technology is working appropriately.
Please use learnanywhere.unt.edu for assistance in your new learning environment.
We encourage you to log on to Lynda.com or MOOCs in Coursera to learn a new software program, more about literature, or perhaps how to knit. I, for one, hope to learn more about design software, EXCEL, making better powerpoints, learning better photography techniques—but I already know how to knit.
Know that our IT professionals in CMHT are awesome. Sampath and Andrew and their student team are doing an excellent job to assist faculty in course delivery, staff in work-at-home solutions, and students who have technology issues.
We encourage students and parents to stay updated at this website: https://www.unt.edu/notices/covid-19-update-your-safety-our-priority-official-notice-president
Take time to figure out how you can create online social activities with those you care about. Check in with people that you are concerned about. Call your grandparents.
The same goes for you…if you are feeling isolated, it is critical for you to reach out so that we can help you. Many of the campus student services will be working through virtual platforms to help those in need.
Many of our students work in the restaurant, retail, and hotel industries. Remember that the UNT food pantry is still open if you need food and essentials.
This is a challenging time for all of us. But fortunately we are starting from a position of strength. CMHT faculty are the best in the world. The wisdom and insight they have will be a complement to students and they will find time to do scholarly writing during this interrupted period. CMHT students are some of the hardest working students I have ever seen and I believe they are ready to be 100% engaged. They have probably already adapted to this learning style. CMHT staff are dedicated and creative professionals who will keep things moving forward in our day-to-day operations.

It is a time to adapt to a new reality. All of your faculty are ready to continue your classes. This may not occur without hiccups, but I ask that you are patient as we work through any issues that might arise. I suspect that once you get back into your classes, albeit virtually, you will get joy from seeing your classmates and professors.

Despite our skill, knowledge, goodwill and best intentions, there will be moments of frustrations and times when things are not going as well as you would like. In these moments, I sincerely hope that you will empathize rather than criticize. Each of us is juggling a different set of circumstances. I ask that all of you strive to stay as positive and productive as possible. Deliver the best work you can given the circumstances. Be compassionate. And Soar Higher.
Remember, CMHT and all of your UNT community cares.
Jana M. Hawley, PhD
Dean, College of Merchandising, Hospitality and Tourism
University of North Texas
940-565-4636
jana.hawley@unt.edu